Blueprints

'Blueprints' is a song-cycle that uses the metaphor of a building to explore how our identity and awareness of self changes at different stages of life. The show is especially poignant for young adults as this is a period of our lives when our perspective is constantly changing based on our experiences, relationships and situations.
The show was inspired by Steph's travels around New Zealand in a camper-van. Towards the end of her travels she found herself searching for something to buy that would be a token and reminder of her experience, but soon realised that it would be a materialistic substitute for something that could not be bought or explained. This incredible experience is simply an integral part of who she is today. This sparked the idea of every person having a 'blueprint', like the beginnings of a building, it would tell you so much about what that person is made of. The show concludes by saying that the blueprint of a building may provide an 'outline, but what the building weathers, who ventures inside its walls and what journey the building takes (different owners, destruction and renovations) will never be part of that blueprint; people are the same. Peoples' roots, foundations and their supporting structures are only the beginnings of who they are.
The show has a cast of 15+, it is ideal for colleges and Universities and is an important and truthful exploration of identity.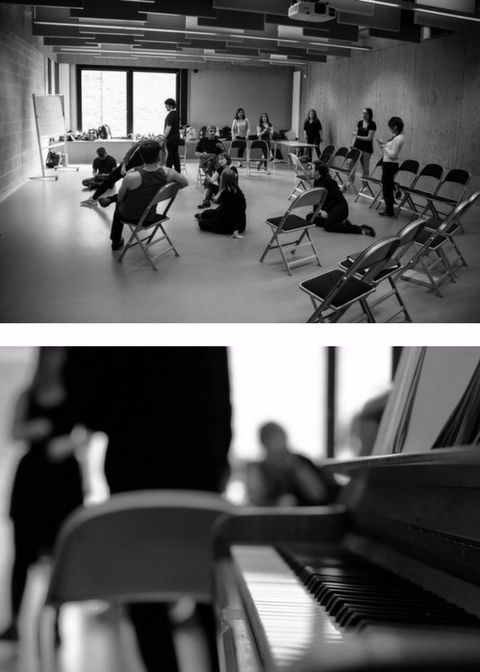 Currently
The show is currently being redrafted so that it is available to license. Please use the contacts page to get in contact for more information
Show History
'Blueprints was originally written for the Vocal and Choral studies students at the University of Winchester where Amies & Clements were teaching their performance project. Steph and Teddy developed the show with the second and third year students and refined it into a final performance as part of their end of year assessments in summer 2016. The performance took place at The Theatre Royal, Winchester, and Teddy and Steph worked on the composition, direction, musical direction, choreographer and helped with tech on the day.